Description
If life is a game, what are the rules? We all know the feeling: In the game of life, why am I the only one who doesn't know how to play? But now, help is at hand, because this wonderful little book will teach you the rules so that you can conquer life's challenges and manage its unpredictable ups and downs.
In "If Life is a Game, These are the Rules," Chérie shares that there are no mistakes, only lessons that are repeated. In thoughtful, inspirational essays illustrated with encouraging personal anecdotes, she includes the lessons that can be learned from each of the rules and offers insights on self-esteem, respect, acceptance, forgiveness, ethics, compassion, humility, gratitude, and courage. Best of all, she shows that wisdom lies inside each one of us and that by putting The Ten Rules for Being Human into action we can create a more fulfilling life.
If Life is a Game, These are The Rules is a #1 New York Times Best Selling Book in over 40 Languages!
If Life is a Game, These are The Rules is also commonly referenced book in the life-coaching industry!
If Life is a Game, These are The Rules is used as a text in 100 universities and colleges throughout the US!
You'll also love the Inner Negotiation Workshop based on this New York Times #1 Best-Seller!
Readers Comments:
"The little book with the powerful message."  - Oprah
"If Life is a Game, These are the Rules is a template for living. Everyone needs to read these words of wisdom. It's 'simple' yet important 'stuff'"  - Richard Carlson, Author of "Don't Sweat the Small Stuff"
"How wonderful it would be if we were all given Chérie Carter-Scott's 10 rules the day we were born...The door to a satisfying life lies within each of us, and Chérie's eternal inspiring message provides the key."  - Jack Canfield, coauthor of "Chicken Soup for the Soul"
"Dr. Chérie Carter-Scott's books have been nothing short of a miracle in my times of adversity.  Her lessons of re-framing situations and inviting humor into our daily struggles turned each and every day from one of pain and anxiety to one of pleasure and fulfillment."  - Anonymous, Toronto, Canada
"I love your book. It has really helped me deal with people and myself better." - Karen, North Carolina
"Without this wisdom, I would still be lost. This was the beginning of my spiritual rebirth. Thank you! Thank you ! Thank you!" - Meg, via email
"I came across If Life Is a Game, These Are the Rules during a period of poor health.  Chronic disease has its way of creeping up on you when you least expect it, and the book was the ultimate pick me up I needed.  I learned the hard way that when life brings you down, you can get angry, get even, or get better.  Through Dr. Carter-Scott's Ten Rules for Being Human, I chose to get better." - Anonymous, Toronto, Canada
"WANT, leads to CHOICE, which leads to COMMITMENT.  These words resonated with me to just a high degree.  If you want to change anything in your life for the better, you have to genuinely want to change.  I found myself stuck in a parasitic relationship for quite a long time, and it was only until I acknowledged that I wanted out, that I made the choice to leave and commit to a better and healthier path.  Dr. Chérie Carter-Scott spells it out perfectly and concisely." - Anonymous, Toronto, Canada
"Such a great read!  It felt as if I had an epiphany about myself, which is a really hard thing to do with a book" - Angelina Bong, Vancouver
, British Columbia
"I sometimes joke that If Life Is a Game, These Are the Rules should be the ten commandments of self-help.  Reading this book was comparable to going through a religious experience, with Dr. Carter-Scott leading the way.  She has a compelling way of engaging the reader through simple words on a page.  They should've handed this book out the day I entered my teenage years." - Jamie Kim, Toronto, Canada
"Cherie's words were truly really inspiring.  She's an amazing author, with an amazing and very relevant message." - Cheriscelle Karma, Toronto, Canada
"Dr. Cherie Carter-Scott takes all the right ideas and presents them in a way that manages to captivate a person throughout the entire book.  It might be because she presented it more as a dialog and conversation (as if she were there in the room with you!)  Regardless, the life-changing elements of the book are evident and I've recommended her works to all of my peers and colleagues." - Mark Olders, Toronto, Canada
About Cherie Carter-Scott: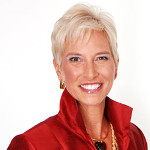 Chérie Carter-Scott, Ph.D., MCC, is a #1 New York Times Best Selling author of If Life is a Game, These are the Rules in 40 languages and Founder of the MMS Worldwide Institute. She started training coaches in 1974 and is known to many in the world as, "The Mother of Coaching." She trains and coaches on three continents and multiple cultures.