Description
Comprehensive, virtual self-paced life coach training and certification program.
(NOTE: We also have an introductory, foundational certification called the Professional Life Coach Certification, which is included in this comprehensive training program.)
Do you want to make a difference and make money doing it?
Have you been dreaming of or considering becoming a life coach?
Are you a life coach that's just getting started?
Or, do you want to add more coaching tools to your toolbox?
If so, you're in the right place!
The Master Life Coach Certification is a
complete life coaching training

program you can complete from the comfort of your own home!
Proven, step-by-step coaching packages and processes that you can use with your clients and already know exactly what to do and say during each session to help your clients achieve specific results and reach their goals.
Short-cuts to knowledge of industry best practices, methodologies, and techniques that would take you months or even years of research and study and learn. (We've done the work, now you can benefit from it!)
Done-for-you forms, templates, questionnaires, agreements to give your business a jump start and save you time.
And, the best part is that you get access to EVERYTHING we have developed and created over a decade of learning, coaching and teaching. WE GIVE YOU EVERYTHING—the whole she-bang. Our blood, sweat and tears, our trials and errors, the money we put into training and development, the conferences and workshops we've attended, and even degrees in education and psychology—you benefit from ALL OF IT!
The Master program includes the Professional Life Coach Certification and 3 niche coaching certifications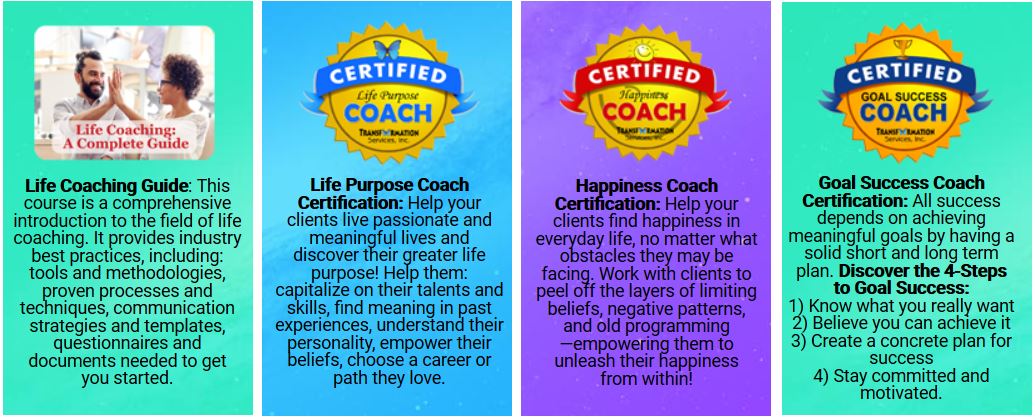 After completing all 4 courses in the program, you will receive your Master Life Coach Certification. You'll also receive an individual certification for each of the niche certifications, as you complete them (that's 5 total!).
How The Program Works:
Our courses are user-friendly, virtual and

SELF-PACED

, meaning you can complete them as fast or as slow as you want from the comfort of your own home (or Starbucks, or a neighbor's house) and even in your pajamas!
Our programs are

video-based

and available 24 hours a day FOR LIFE, so you can access them any time.
Downloadable workbook materials are included that you can print out in order to complete the activities (which are the best part of the program). We also have professional workbooks available for personal use or to use with your clients.
The material is

engaging and fun

because we're silly and like to have a good time! But, the videos can also be sped up if you want to take it all in and only have a short time to do it.
You get to join a community of like-minded coaching students to network and get feedback.
You can ask Joeel and Natalie questions about the course material through email or in the group forum.
You also receive a

FREE listing in our coach directory

once you've finished at least 1 of the niche certifications!
Oh, and the fact that you'll benefit from Transformation Services, Inc's strong reputation in the coaching and personal development field, our psychology-based curriculums, and the proven, effective methodologies and techniques you'll learn (which are the EXACT methods we've used for years)!
The complete program takes approximately 40 hours to complete, including videos and activities.
The Master Coach course package also
COMES WITH 3 BONUS COURSES!
Each of the niche coaching programs (happiness, life purpose, goal/success) comes with a "Sales Presentation Blueprint" marketing course!
These courses give you a complete presentation templates (to use verbatim or customize) that are designed to share massive value with your audience, help them get to know you, and help make it easy to transition them into registering for your coaching or other programs. It takes the anxiety out of selling by giving you a proven method for putting yourself in front of your ideal clients and making them WANT to do business with you, without sounding or FEELING "salesy" at all!
Not only is this life coach training program comprehensive, convenient, and FUN…
…it also costs THOUSANDS LESS than other certification programs!
The Complete Master Life Coach Certification Program
(including all 7 courses)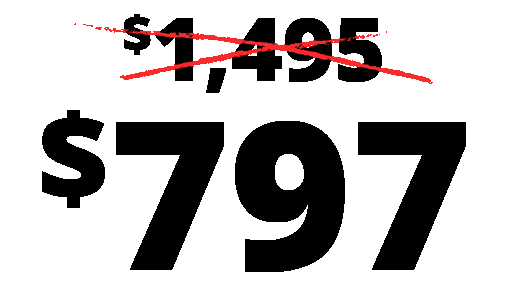 (that's 40%off)!
Compared to purchasing each course individually
We believe strongly that if you can make a difference in people's lives it is your MORAL OBLIGATION to let them know!
We don't want you to be another talented life coach that plays small—we want to see you THRIVE and make the difference in the world that you, uniquely, can make! And, so, whether you invest in yourself by taking our courses or seeking your continuing education elsewhere, PLEASE take the next step.
Cheers to your greatness and our collective mission to make the world a better place, one coaching client at a time!
Joeel & Natalie Rivera