Thank you everybody for your amazing support!
'Coaching' Movie is the Top Trending Film
on the Homepage of Indiegogo today!
We started with the first steps in August 2014 and we've been working with the world's top coaches on creating the most historic coaching documentary ever. It took us 6 months to prepare the complete movie setup, filming the trailer, screening potential experts, etc. The Indiegogo campaign was launched 3 weeks ago and already after 1/3 of the campaign time we reached over 50% of our campaign goal. Today's success is what happens when one works with great coaches. Let's inspire even more than 1 million lives together!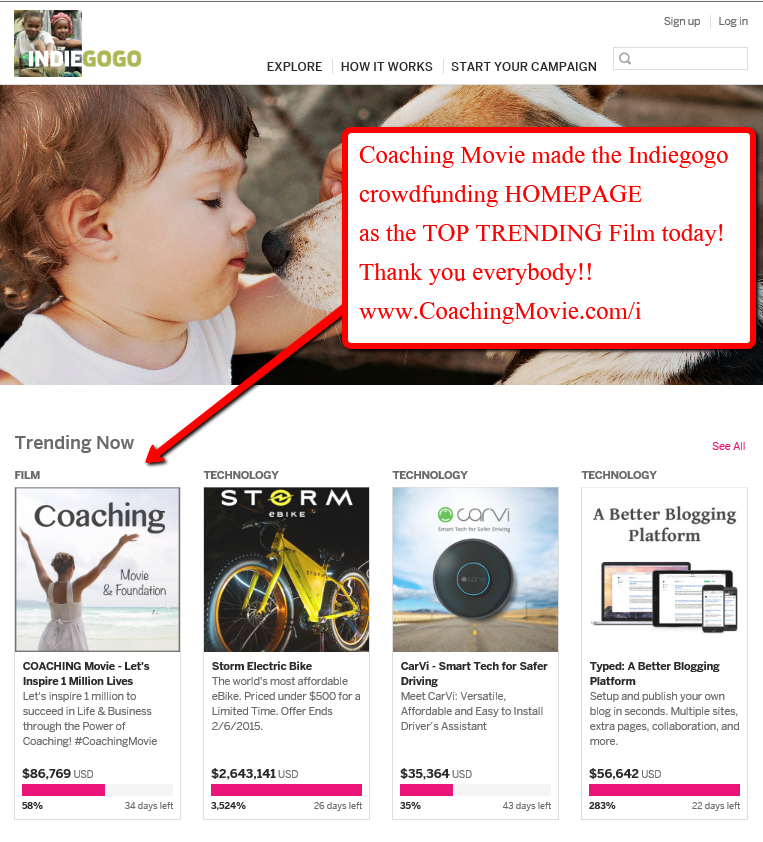 To be able to inspire even more lives, you can now join our referral program!
Would you be able to email or post your personal referral link about the crowdfunding campaign to everybody you know?
If you refer 3 contributions at any level, you will get a 'Thank You' Credit at the end of the film.
For those who help to raise more, there are lots of wonderful rewards.
You can see the rewards and email templates to share with everybody you know on: http://coachingmovie.com/refer
Thank you for your support to inspire 1 million lives (or more)!